Allowing sellers to print label directly at shopping cart and showing carrier calculated shipping rates seem to be two key shipping function for online retailers. In this post I am going to analyse the shipping functions being offered by the top shopping cart systems in the market.
Function 1 - Print Labels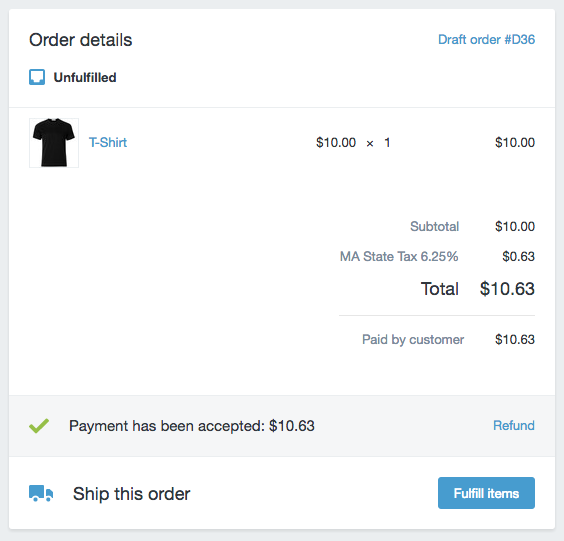 Shopify Screen Shots (USPS via Shopify)
Before considering to use shipping apps like ShipStation, Shipworks, ShippingEasy or Shippo, sellers normally check if they can print labels directly at shopping cart systems. It would be idea for sellers to click and ship an order without hastle of copying customer info to carrier system and then copy back the tracking number back to shopping cart. While Bigcommerce and Shopify allowed users to purchase and print USPS labels directly in late 2014 and late 2015 respectively, 3dcart is already supporting label printing of USPS, UPS, FedEx and DHL directly. Many shopping carts have not yet offered label printing function, sellers thus must use shipping apps if they want to streamline the label printing process.
| | Label Printing | Shipping Apps |
| --- | --- | --- |
| Shopify | USPS (endicia)* | ShipStation, Shippo, ShippingEasy |
| Bigcommerce | USPS (endicia) | ShipStation, Shippo, ShippingEasy |
| SquareSpace | NA | ShipStation |
| WooCommerce | NA | ShipStation, ShippingEasy |
| Magento | NA | ShipStation, Shippo, ShippingEasy |
| Ecwid | NA | ShipStation, ShippingEasy |
| 3dcart | USPS (endicia), UPS, FedEx, DHL | ShipStation, ShippingEasy |
| Wix | NA | - |
*Unlike Bigcommerce or 3dcart, Shopify is using their own Endicia account to allow their sellers to print label easily - ie sellers do NOT need to sign up at endicia and enter endicia credentials, and thus can simply click and buy labels.
Function 2 - Carrier-calculated Shipping Rates
*Bigcommerce - Setting Up Real Time Shipping Quotes*
On top of allowing users to setup shipping zones for free shipping, table rates based on order price / weight, many shopping carts tend to offer carrier-calculated shipping rates or so called real-time shipping quotes. Basically shopping cart can connect with your shipper account and get the shipping rates, so that when customers checkout, you can show an account specific shipping fee based on the destination, weight and dimension. Unlike label printing, this function is more common among the shopping cart systems.
| | Carrier-calculated Shipping Rates |
| --- | --- |
| Shopify | USPS, FedEx, UPS |
| Bigcommerce | USPS (endicia), FedEx, UPS, Australia Post, Royal Mail |
| SquareSpace | USPS, FedEx, UPS |
| WooCommerce | NA |
| Magento | NA |
| Ecwid | USPS, FedEx, UPS, EMS Russian Post, Canada Post, Brasil Correios |
| 3dcart | USPS, USPS (Endicia), FedEx, UPS, DHL, Canada Post |
| Wix | NA |