Every tuesday, we will be doing some online shopping. The post will focus on the delivery experience from the checkout process, the actual package delivery (or store pick up), to the return process. We want to discover the best practices in the industry, and ways retailers can improve on the shipping process. For this week, we are going to shop at my favorite sportswear lululemon athletica.
Shop at: lululemon athletica
Deliver to: Hong Kong
Buy what: 2 Pants + 1 Top (men)
Order Time: Wed 18 Nov 12:46pm (GMT+8)
Shipping Notification: Wed 18 Nov 7:43pm (GMT+8)
Courier: TGX Hong Kong (Standard Delivery)
Estimated Delivery Time: 1-3 Business Days
Delivered on: Fri 20 Nov 11:00am (GMT+8), i.e. 2 Business Days
Checkout + Delivery Cost & Time
Yea: free shipping, clear shipping time
Nah: No exact delivery date info. Inconsistent info about shipping time.
lululemon offers international shipping given that they have warehouses and stores worldwide. You will be asked the destination country for your orders when you visit the site. Your shopping content and price will be changed upon your choice of delivery country. lululemon online store has noted about "free shipping" at the top banner and has a detailed FAQ page about shipping, in which includes delivery time, returns and tracking info. Before and during checkout, they clearly states the delivery time and cost, although the delivery time is a bit TOO inconsistent (e.g. they say 1-2 biz days in FAQ, 1-7 days biz days before checkout, then 1-3 days during checkout). lululemon also lets your know the delivery courier, service type, cost and delivery time during checkout. **Suggestion? ** Tell customers an exact delivery time (i.e. by 21-Nov) if possible.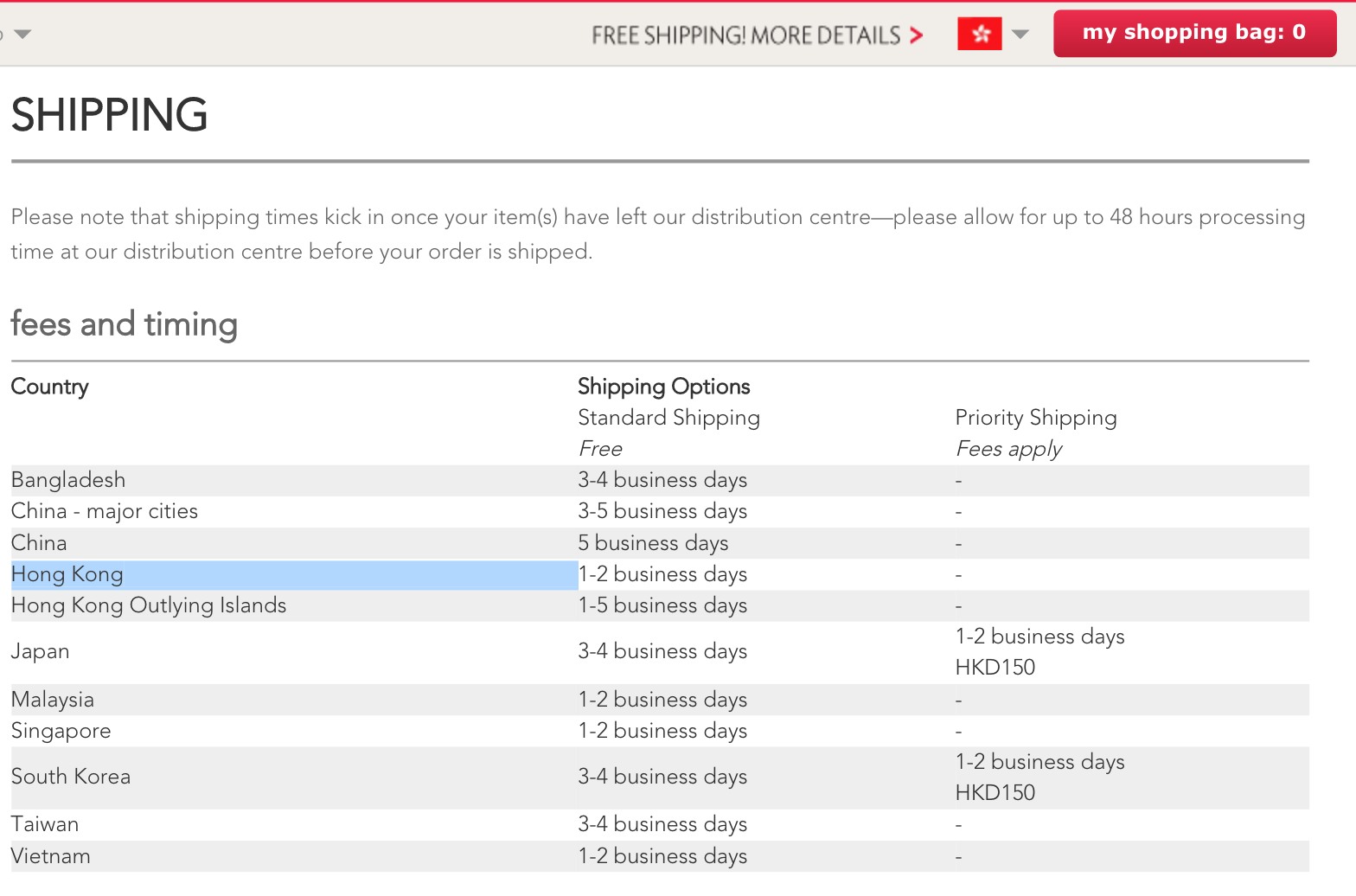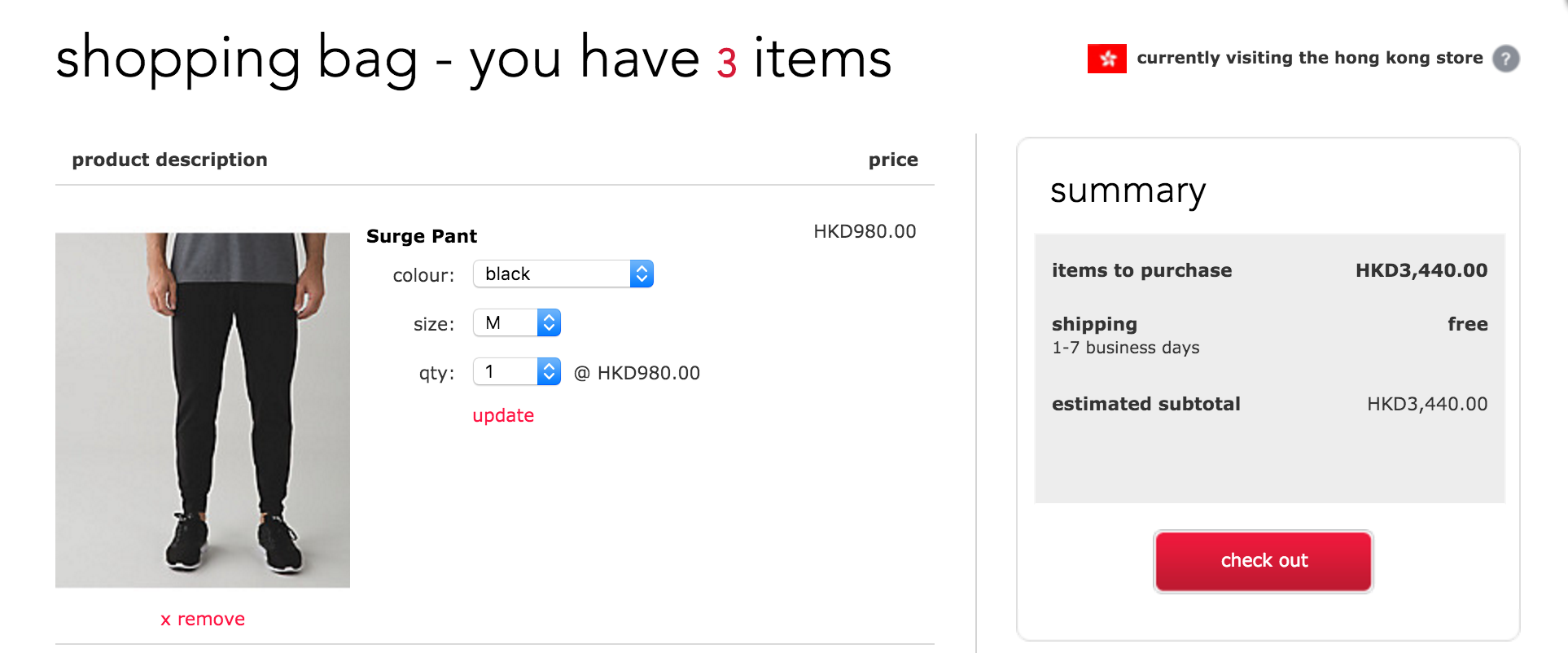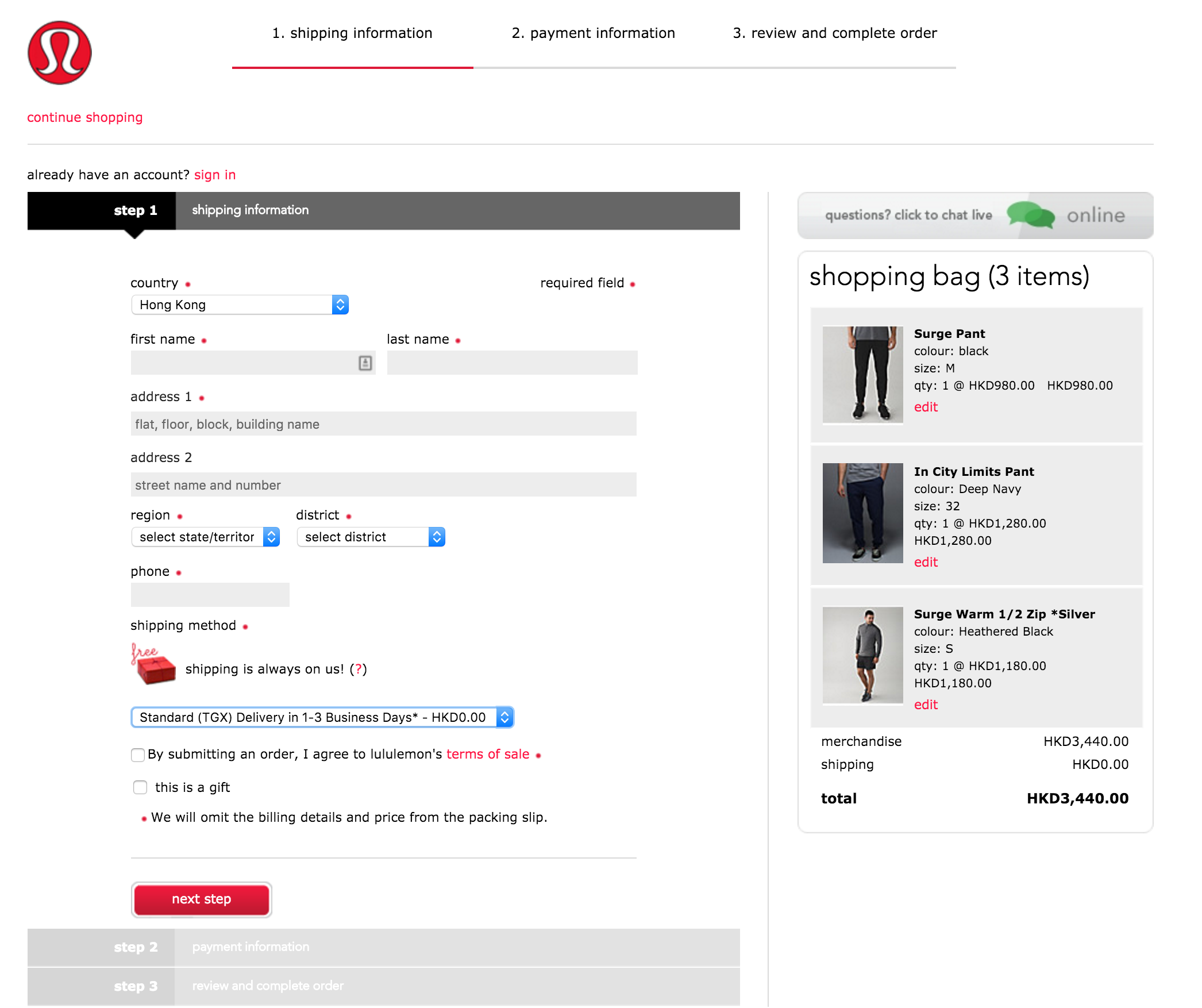 Shipping notification & Tracking
Yea: Shipping out fast, clear customer support phone number
Nah: Need a few clicks for tracking, does not show status within order details page. No estimated delivery time at order details page.
Shipping Notifications


Received the shipping notification in 7 hours after making the order, in which includes the item details and a tracking URL. By clicking Track Order, you will be directed to the Order Details which you can find a tracking number with an embedded link to the carrier site for seeing status updates. One thing to point out, they didnt put the estimated delivery time at the order details page. lululemon also includes a customer support (Guest Education Centre) contact details in the email just in case you have any question.
Order Details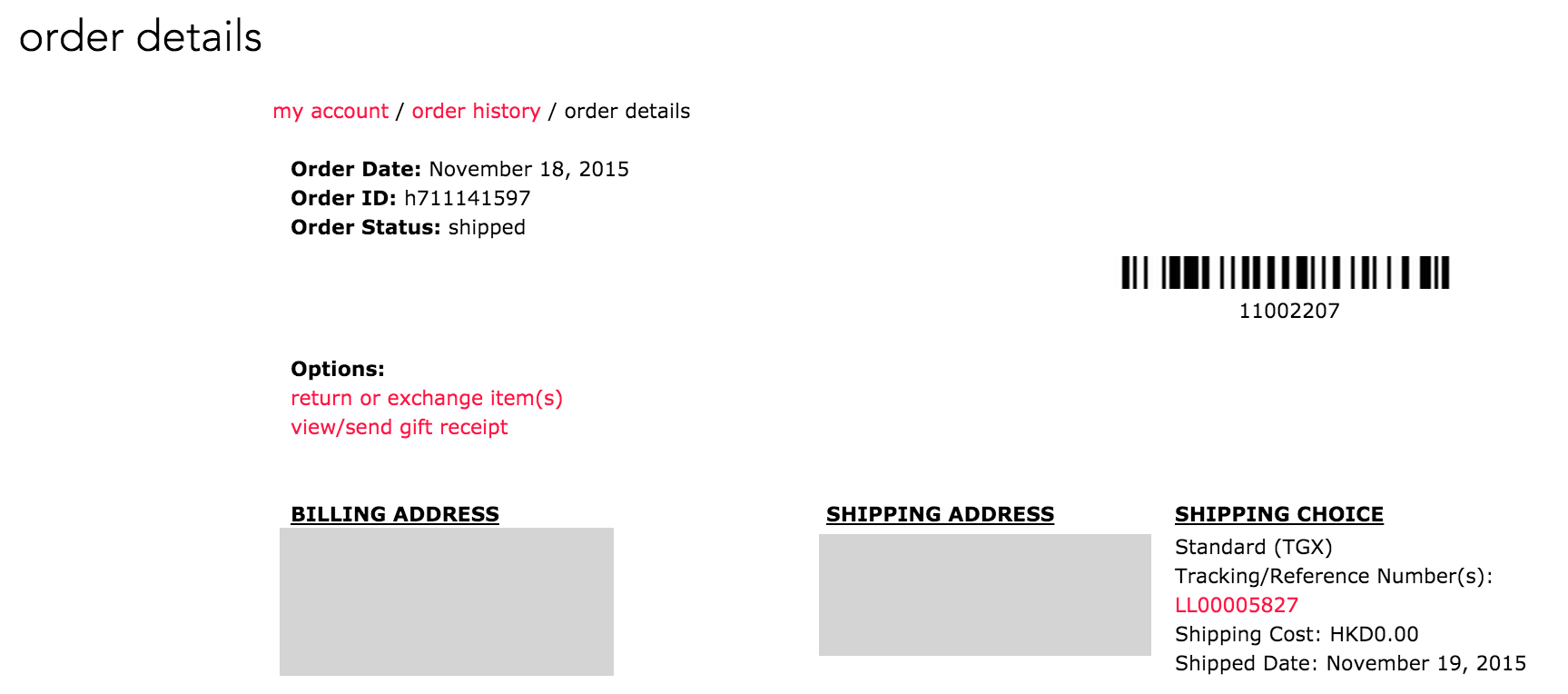 Tracking Info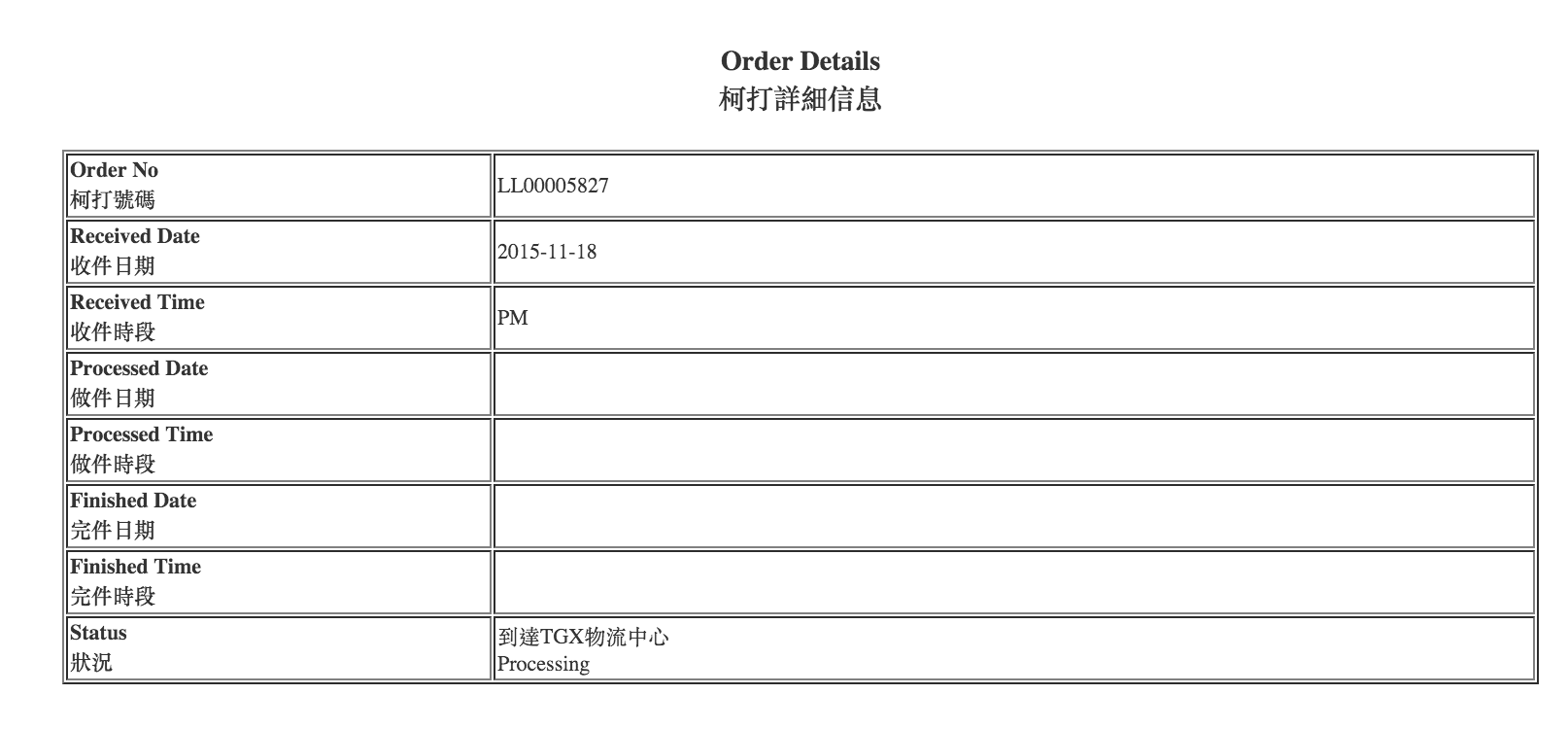 Actual Delivery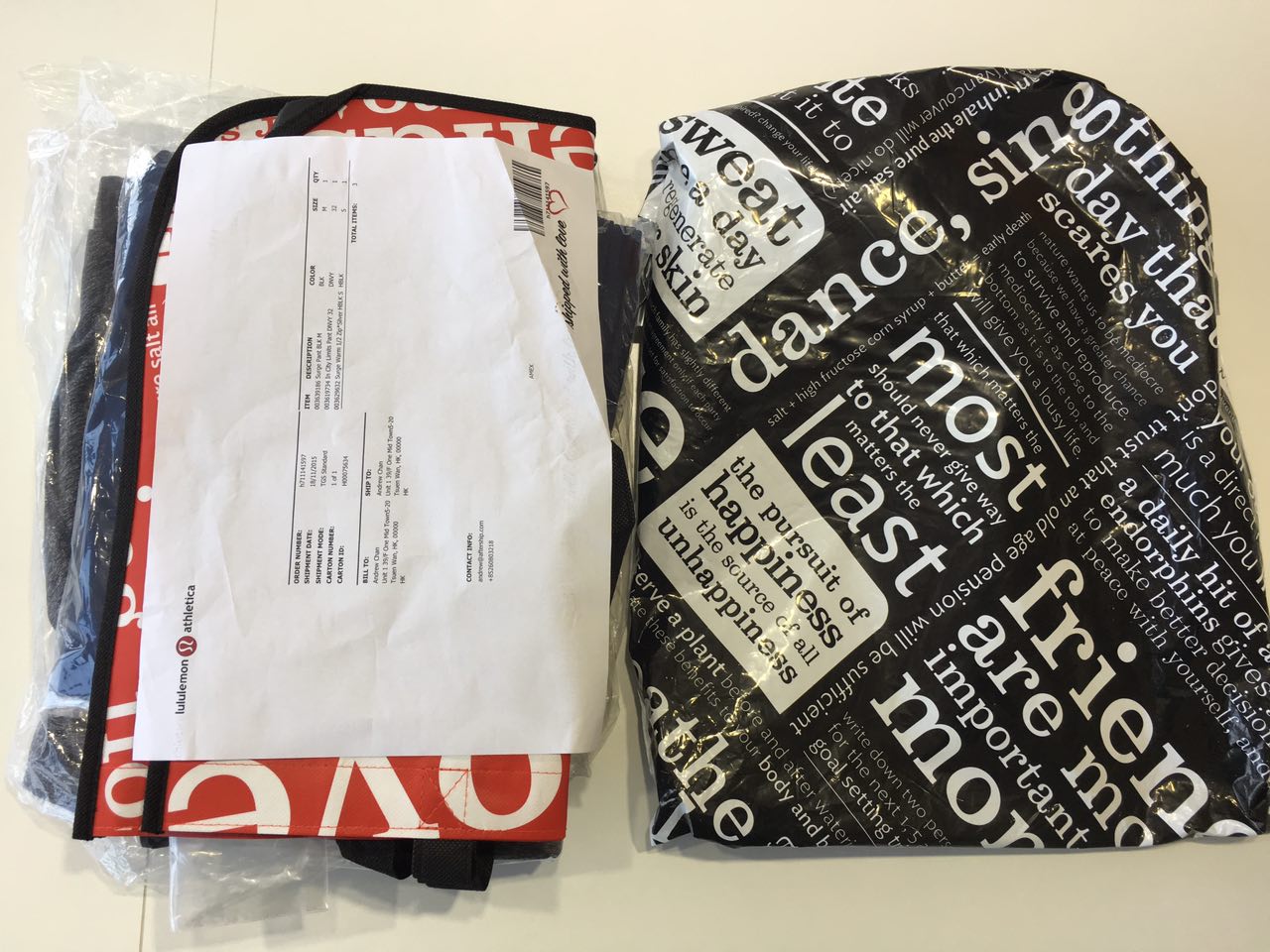 Yea: Delivered by expected delivery date. Carrier called before delivery.
Nah: packaging is average
When it comes to delivery, lululemon definitely met my expectation with the expected delivery date as 1-3 days, while the actual delivery happened in 2 days. Good job! And the delivery guy from TGX called before delivery. The packaging is a big disappointing but at least it is minimal and not killing the trees (much).
We will omit the billing details and price from the packing slip
Return Policy
Yea: in-store return. clear return policy
Nah: Does not include return label in package
I have chose to return to lululemon store in Hong Kong on 28 Nov (Sat). The return process took around 20 mins. The staff will ask you why you want to return. Just say any reasons. You have a choice to credit money back to your lululemon account or back to your credit card. It takes around 30 days for the refund as mentioned by the staff. Good process in general.
Returns must be made within 14 days from delivery date... Once we receive your package we will refund you within seven business days.
Option 1: Return to store
Just bring the order details sheet that was in the package, and the items you wanna return to store.
Option 2: Return to warehouse
Login to online account > Order History Page
Select items to return, and fill out forms
Ship to warehouse