Tuesday is about shopping and shipping. Today we are going to order something from Taobao, i.e. the China Amazon, and let you know the checkout process, delivery options, and shipping experience.
Shop at: Taobao Tmall
Deliver to: Hong Kong
Deliver from: China
Buy what: 2 iPhone Cases from a seller
Order Time: Tues 24 Nov 7:03pm (GMT+8)
Shipping Notification: Wed 25 Nov 11:33 (GMT+8)
Courier: Taobao Global Direct Shipping (seller ship to taobao, taobao ship to buyer)
Estimated Delivery Time: Not provided
Delivered on: Fri 27 Nov 5:00pm (GMT+8)
Checkout + Delivery Cost & Time

Yea: Clear shipping options with costs
Nah: Unknown delivery date
Summary: Taobao currently offer 3 ways of shipping method and i chose Taobao Global Direct Shipping as I am shipping only 2 light items from one single seller, thus I do not choose Global Consolidate and Shipping; and usually China seller has problems shipping directly to Hong Kong or charge significantly more, and you need more talking (i am those click-and-buy type). Global Consolidate and Shipping is great when you order multiple things from different sellers - sellers will ship the packages to the carrier warehouse (e.g. SF Express, 4px) you chose and the ship together when you are ready.
Taobao Global Direct Shipping (RMB13)
Global Consolidate and Shipping (around <1KG=RMB20, then RMB4/0.5kg)
Contact seller for price
Shipping notification & Tracking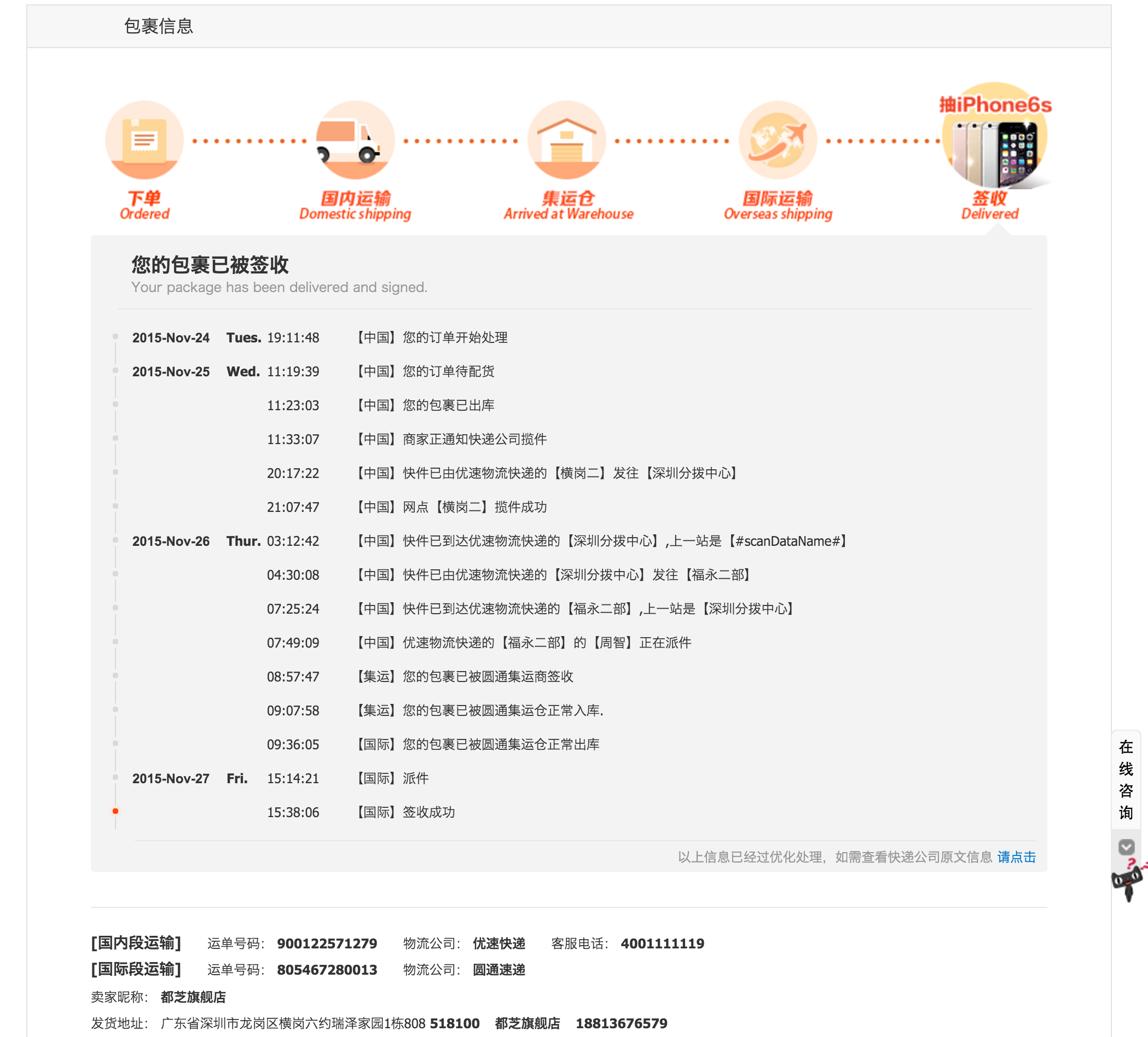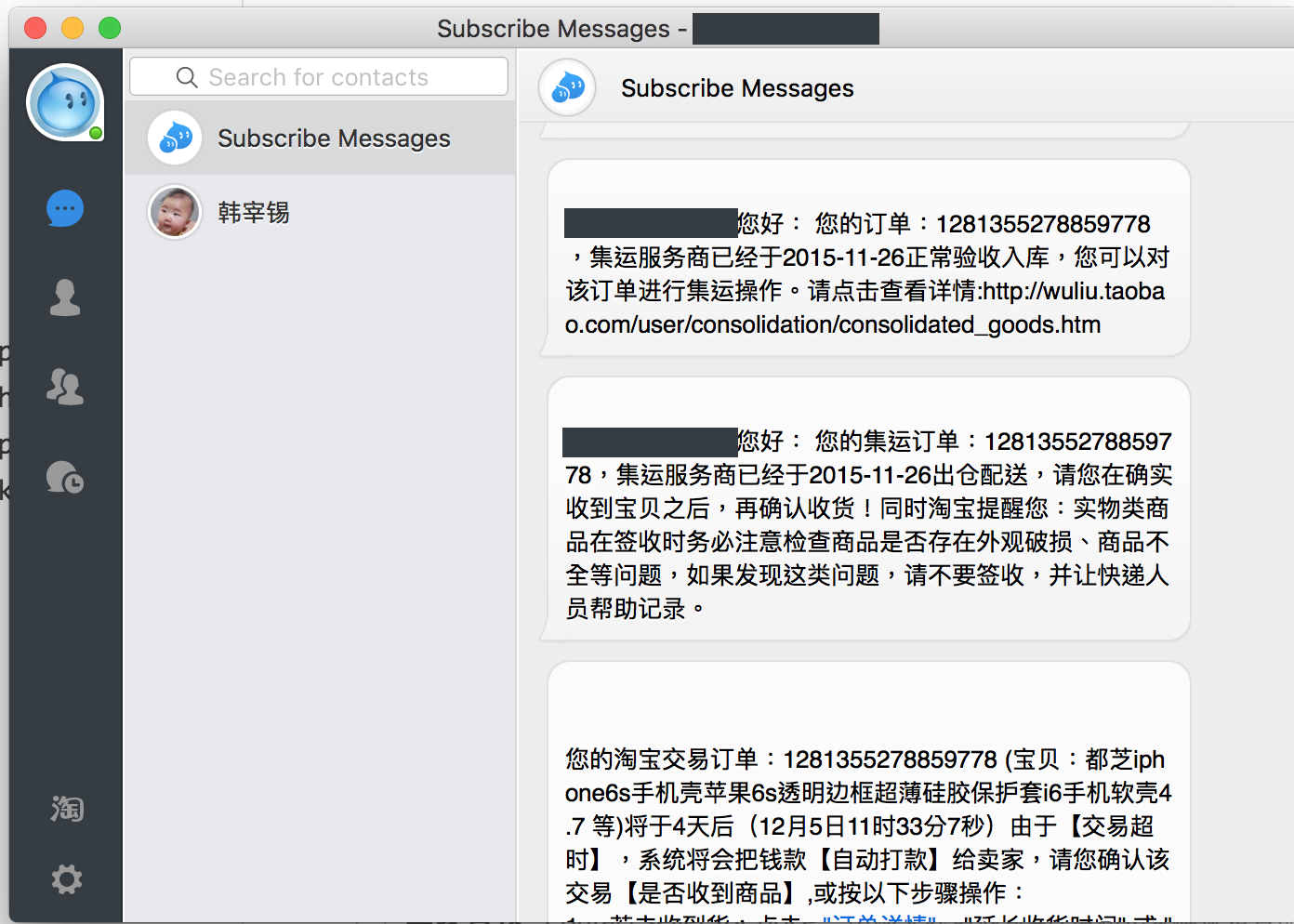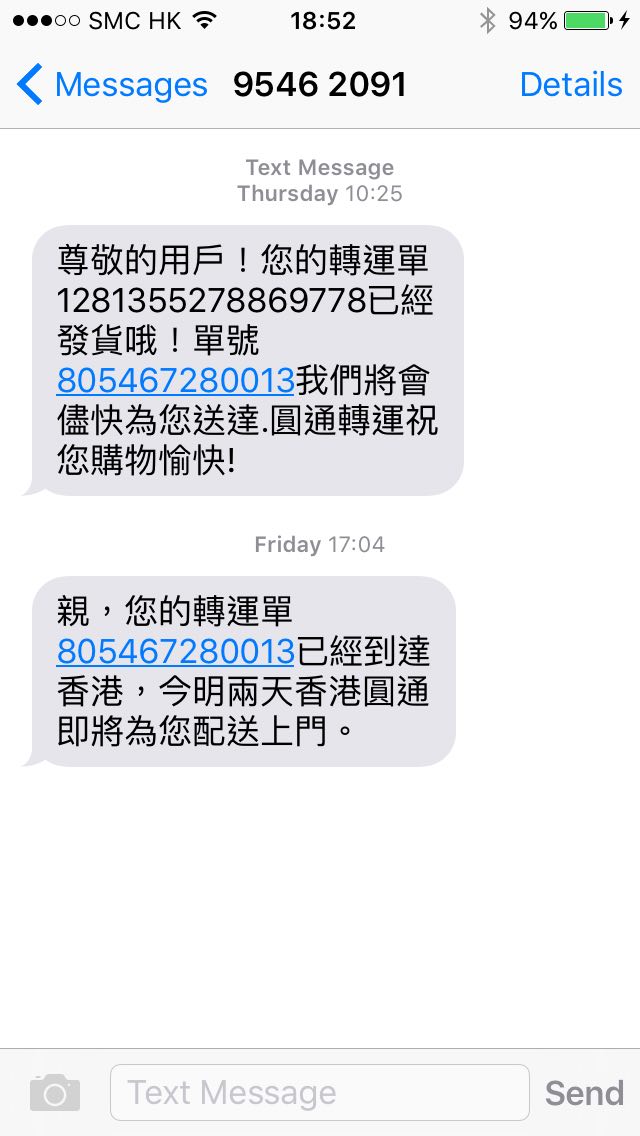 Yea: SMS notifications, tracking details shown directly at taobao site / app
Nah: Wrong SMS notification timing, UI can be nicer
Surprisingly, Taobao has clear tracking information at different channels (taobao site, app, chat app AliWangWang and SMS). One thing to point out is that Taobao has deep integration with carrier, i.e. they show information directly and do not need to go to carrier site and input tracking number to track. Great job.
Couriers

As i chose Taobao Global Direct Shipping which i had no idea which courier Taobao or seller are using. But based on the order history info, basically the seller chose ucexpress to ship from their china warehouse and taobao chose YTO Express to handle the delivery from China to Hong Kong. Basically as a customer, you dont need to worry about the details.
Actual Delivery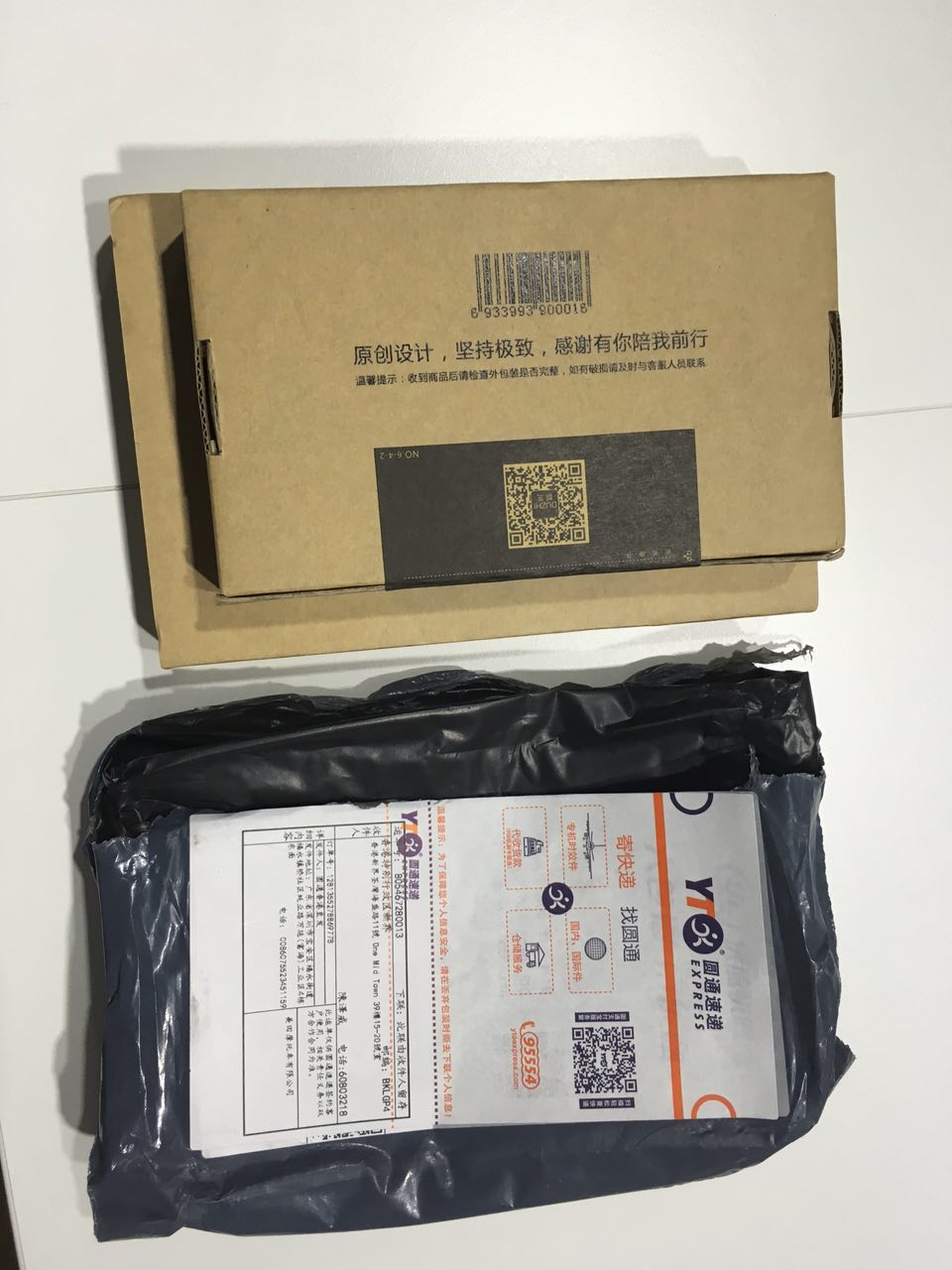 Yea: Fast delivery
Nah: Packaging can be improved.
Return Policy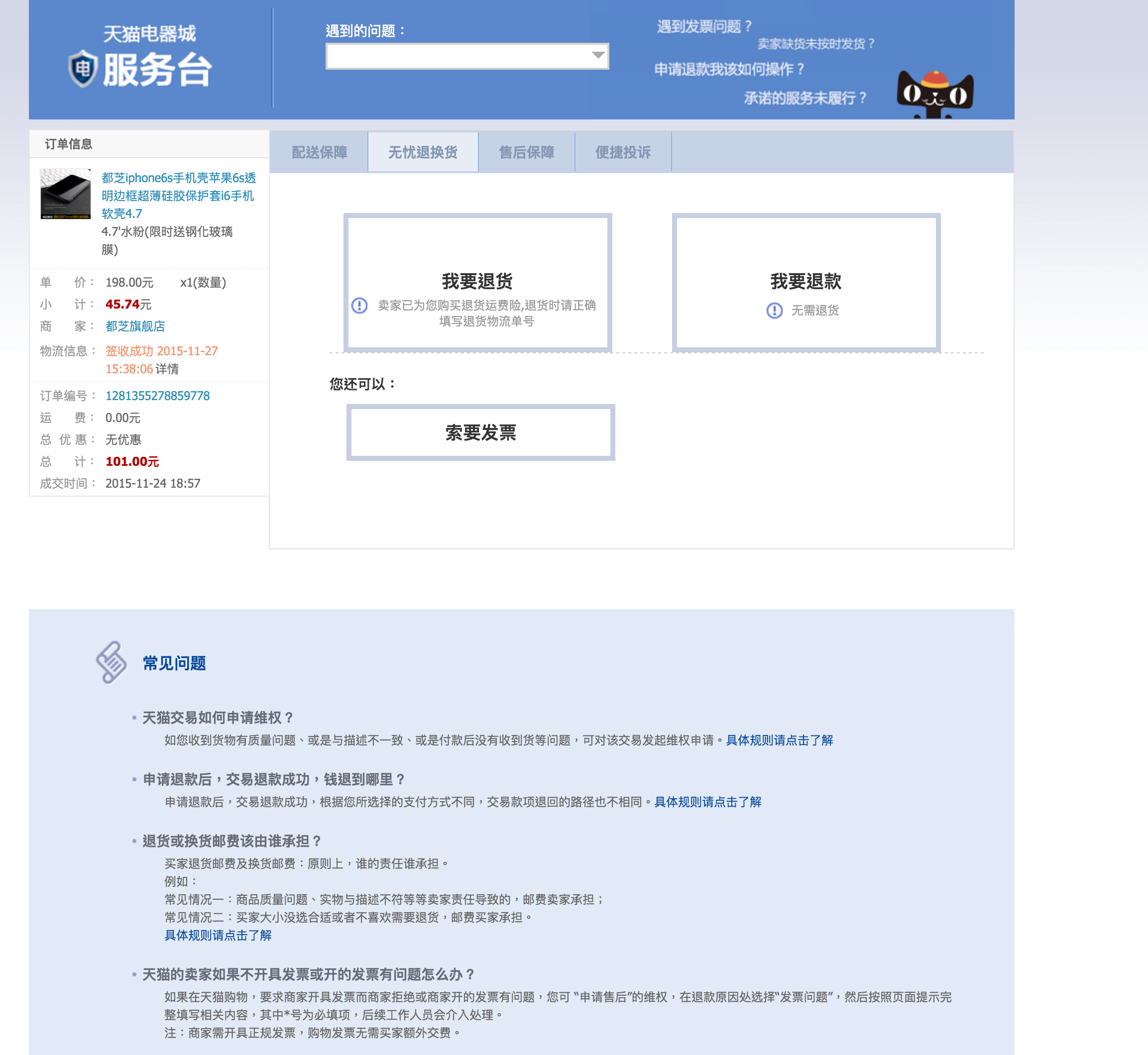 Yea: Clear return policy
Nah: High cost for international return, buyers have to ship to sellers directly for refund (i.e. taobao wont handle for you)
I havent done any return shipments for taobao mainly because the delivery cost can be more than or too much compared to the order price. Especially when you order goods from multiple stores, you have to send back directly to each individual sellers. One thing nice is that Taobao has a clear link and process for refund, and you can refund even if you simply dont like the product.