If you are buying books online and looking for great price and free shipping worldwide, Book Depository is one of the best options. Today I am going to order a book from Book Depository and review the complete shipping experience from checkout to delivery.
Shop at: bookdepository.com
Deliver to: Hong Kong
Buy what: Mindset : The New Psychology of Success
Order Time: Tue 15 Dec 6:41 PM (GMT+8)
Shipping Notification: Thu 17 Dec 6:42 PM (GMT+8)
Courier: Royal Mail
Estimated Delivery Time: 5-9 business days
i.e. 22-29 Dec (Dec)
Delivered on: Thu 24 Dec 3:01pm (GMT+8)
Checkout + Delivery Cost & Time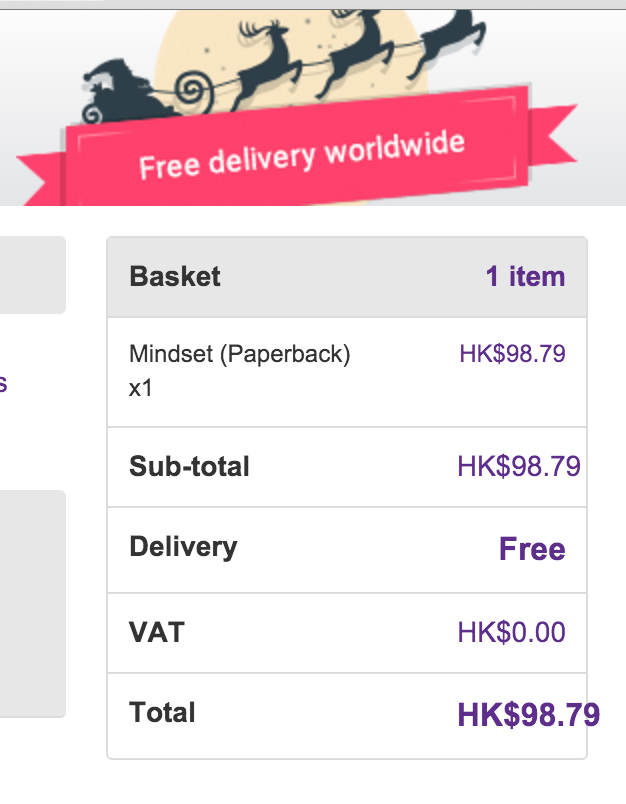 Yea: Free shipping regardless how many books you buy!. Reasonable shipping time.
Nah: More delivery options as the only option takes 5-9 days. Not showing expected delivery time at checkout.
Given my previous shopping experience at bookdepository, each book ordered is packed and shipped individually no matter how many books you buy. One great thing is that you can still enjoy free shipping when buying one single book. Free shipping worldwide is definitely the biggest selling point, and the book price is like 30-40% cheaper than the retail price in Hong Kong. One thing a turn off for first-time book buyer could be the unknown delivery time. Unlike other online stores showing clear expected delivery time at checkout, you need to click their shipping FAQs to dig out the delivery time. And it is unclear which carrier they are using, most likely Royal Mail or Australia Post given their shipping costs and they said they may ship from UK and Australia.
Shipping Notification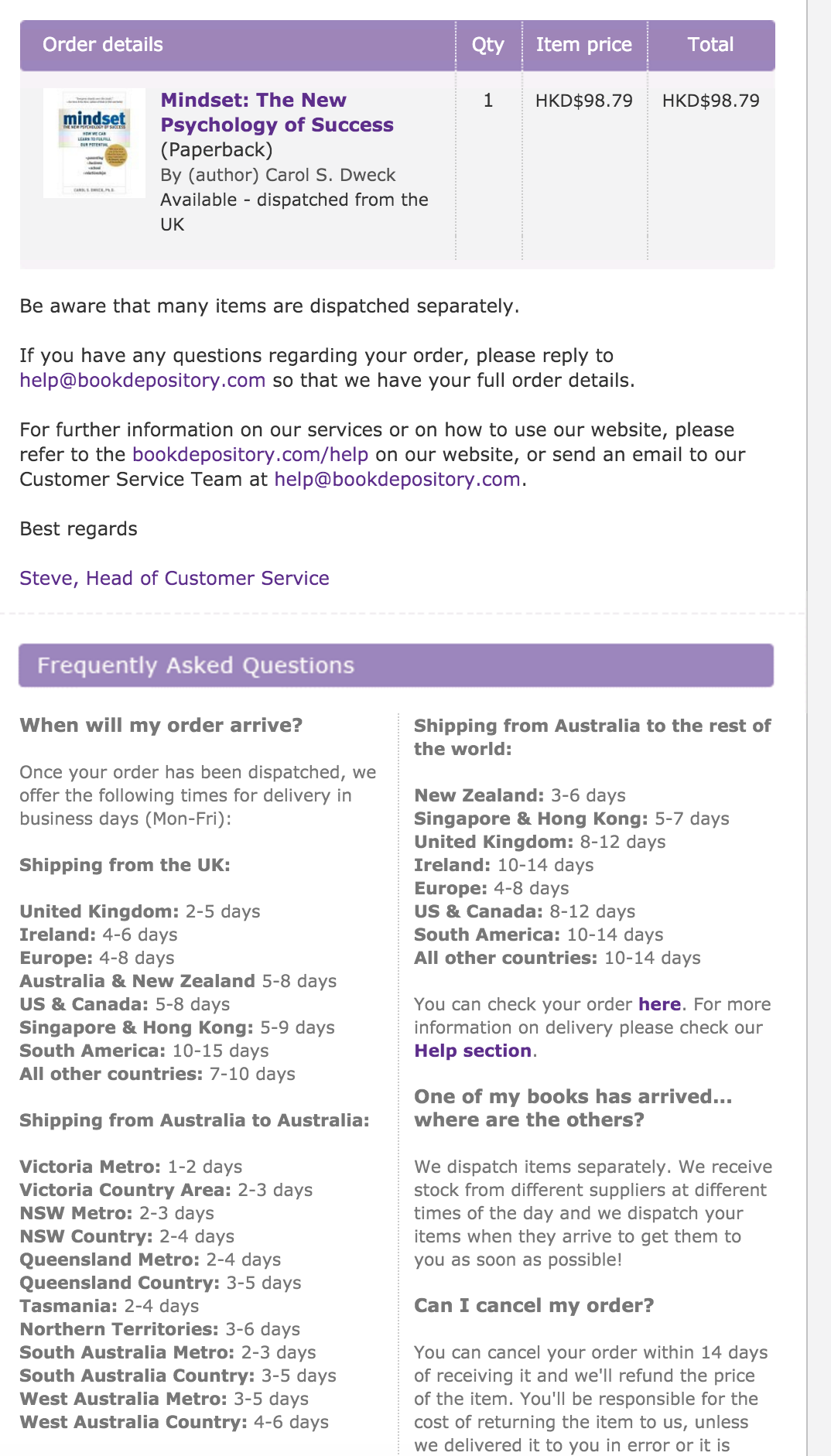 Yea: Shows FAQs of delivery time
Nah: No tracking number / link
If you're the first time to shop at BookDepository, you may be surprised to know that there is no tracking number associated to the shipment until you receive the shipping notification. Instead of a tracking link, they simply tell you a date range of expected delivery time for different destination countries. I think it would be awesome if they can simply tell me the day range for my order instead of telling me the full list of countries. A bit confusing.
Actual Delivery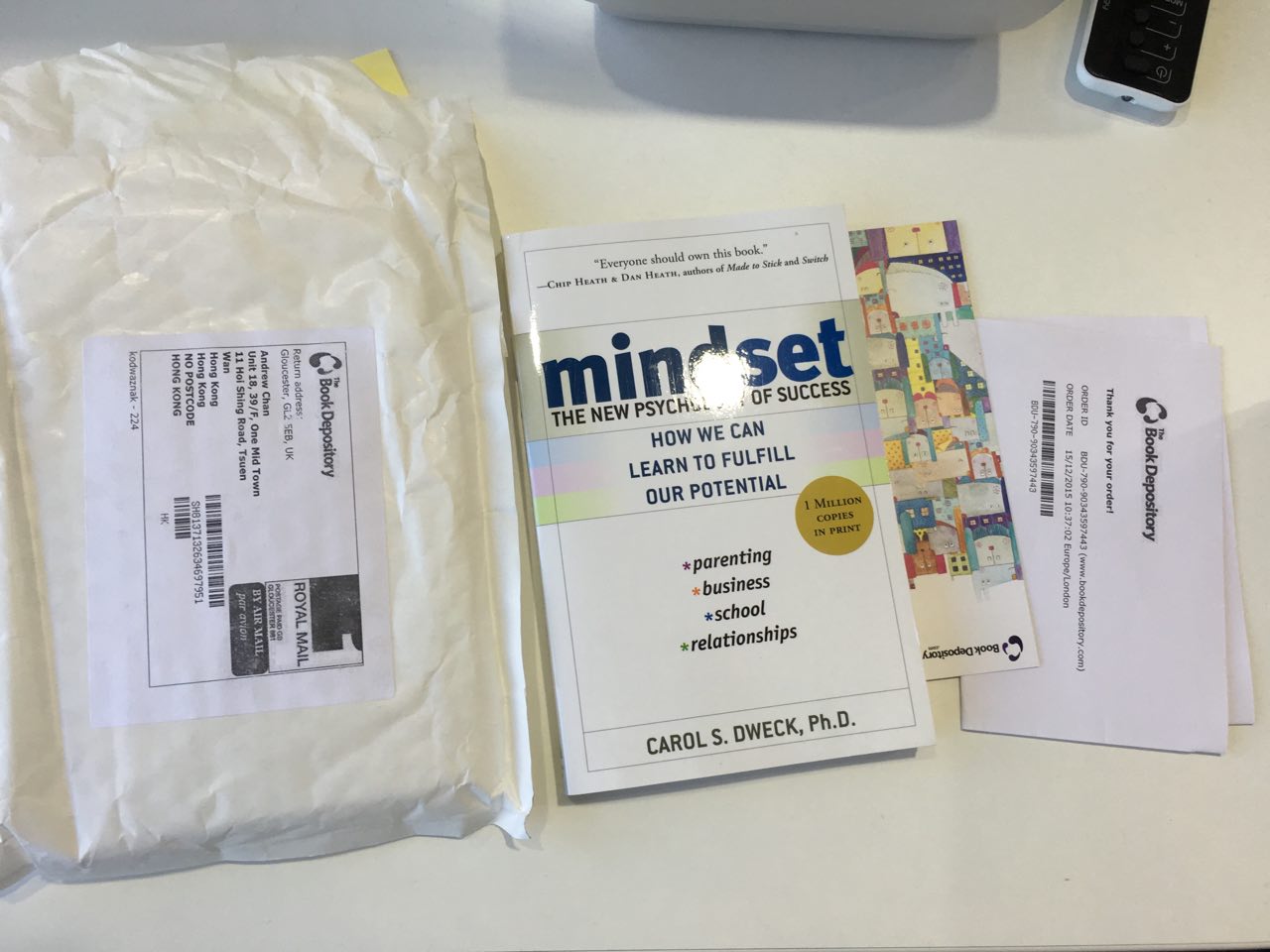 Regardless how many books you order at BookRepository, they ship one book only per shipment via the cheapest method (i.e. Royal Mail for my case). This simplifies their picking, packing and shipping process. The packaging is fair - the book received is in good condition and BookRepository offers a bookmark as a gift for each book.
Return Policy
Though bookrepository does have a return policy, you are buying outside UK, it may not make sense to return the books as the international shipping fee could be quite a lot compared to the book price. Book is not light at all.
You can cancel your order within 30 days of receiving it by completing our online cancellation form. Once you've cancelled the order, you must send the parcel back to us within 14 days. Once we get it, you'll be refunded the price of the item(s) within 14 days. You'll be responsible for the cost of returning the item to us, unless we delivered it to you in error or it is faulty.