Today I am going to shop at Apple Store via their mobile app, and buy the new Apple TV. Follow this post which I will go through the whole shopping and delivery experience from checkout, delivery to return.
Shop at: Apple Store
Deliver to: Hong Kong
Buy what: Apple TV (32GB), HDMI-HDMI Cable
Order Time: Wed 2 Dec 10:38am (GMT+8)
Shipping Notification:
Wed 2 Dec 5:08PM & 6:28 PM (GMT+8)
Courier:
Apple TV (DHL)
HDMI-HDMI Cable (SF Express) via CEVA warehouse
Estimated Delivery Time:
Apple TV by Fri 4 dec
HDMI-HDMI Cable by Thu 3 Dec
Delivered on:
Apple TV by Fri 4 dec 10:48am (GMT+8)
HDMI-HDMI Cable by Thu 3 Dec 2:41pm (GMT+8)
Checkout + Delivery Cost & Time
Yea: free and fast shipping, clear expected delivery date (even before checkout)
Nah: Not much indeed.
Shopping at Apple Store has always been a great experience (except when it is hard to buy a new iPhone). In terms of shipping info, it is amazing that Apple shows the exact delivery date at the item page even before checkout. The expected delivery date is consistent across different channels, including the checkout page, order details page and also email notification. One thing Apple does NOT show which courier they are using (they simply say standard shipping) - is it a matter? not really as you believe in their promised delivery date and the delivery service they chose. Unlike Apple Hong Kong only offers standard delivery, Apple US partners with Postmates for delivery within 4 hours.
Showing expected delivery date at item page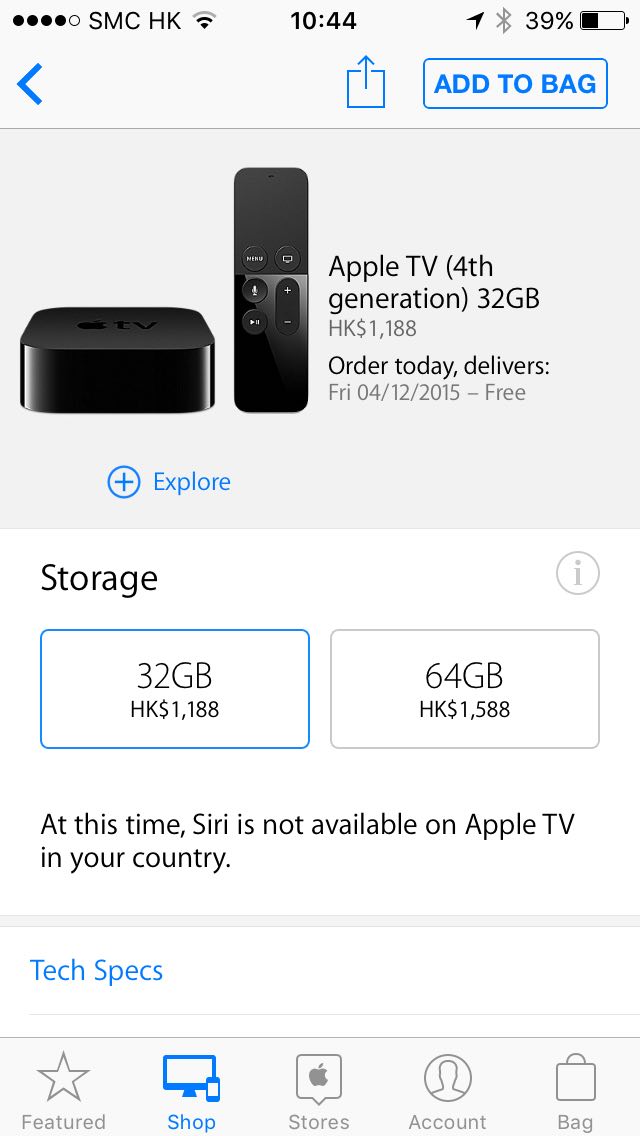 Order details after checkout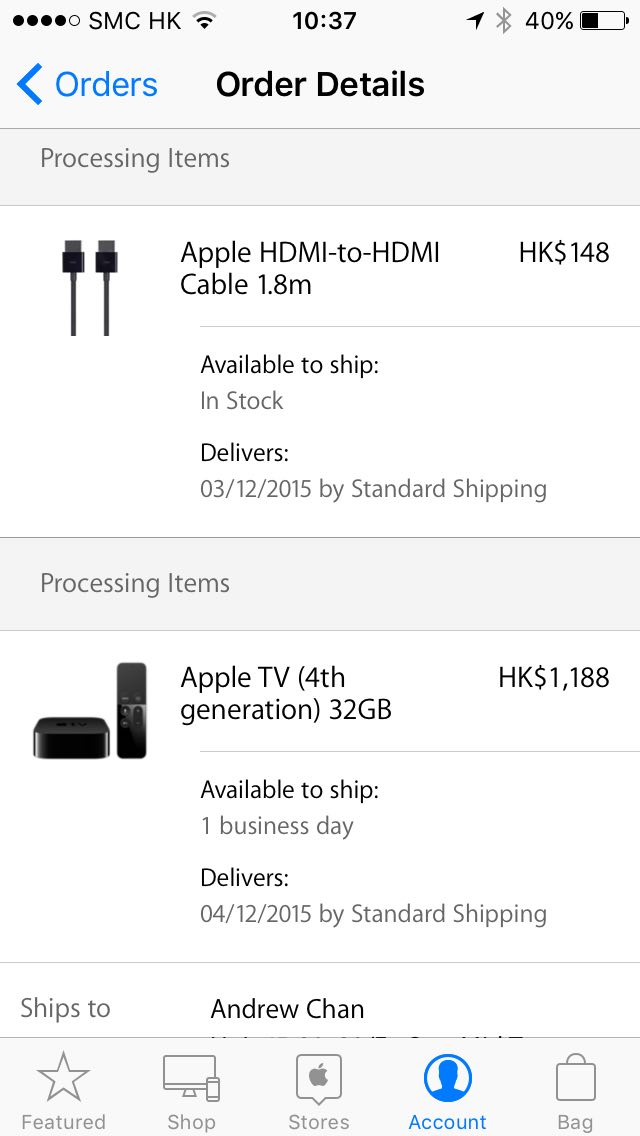 Shipping Notification
Yeah: Received in 7-8 hours after checkout. Contain tracking number, and tracking link. Clear delivery date.
Nah: Nothing
I received 2 separate shipping notifications for each product with the tracking number and carrier name, and in which also contain the tracking URL to the carrier page. One thing is clear is that the two items are going to be delivered separately with two different carriers - believing that Apple store their items in different warehouse and each may have a different shipping rule.
Actual Delivery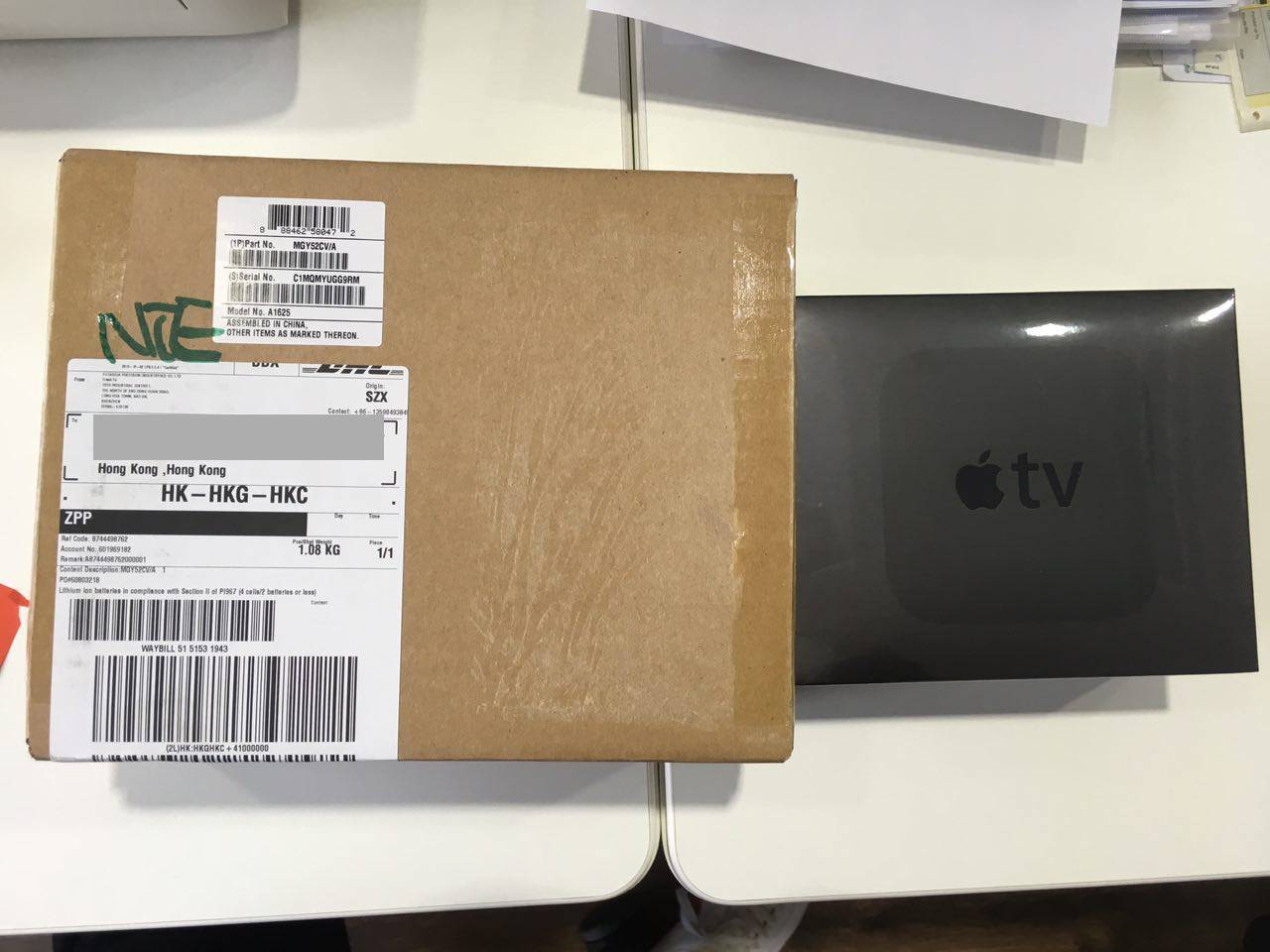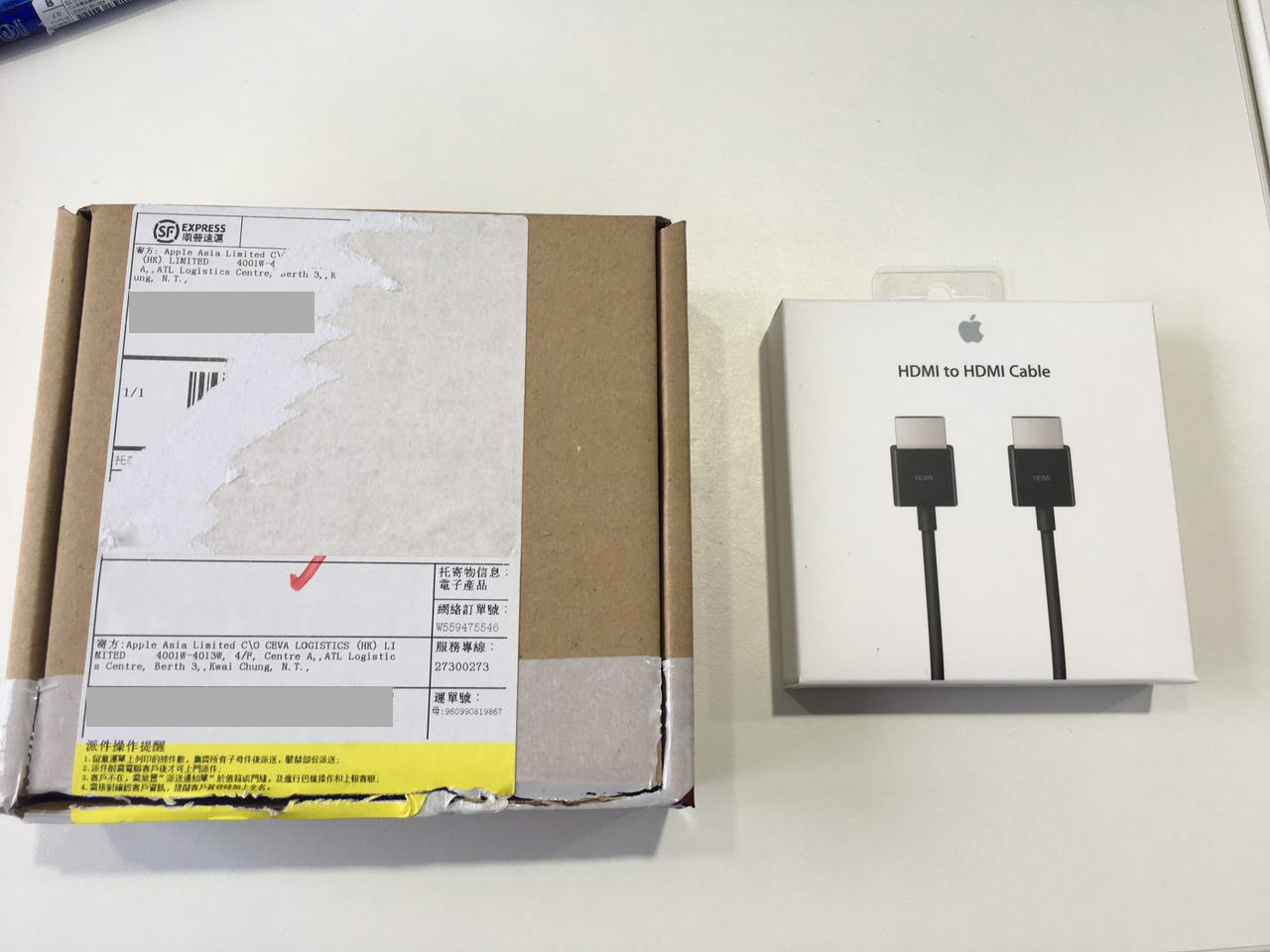 Yeah: Received on the expected delivery date.
Nah: Nothing
The packaging of the apple product is nothing you can complain while the boxes wrapping the products are nice too, especially the Apple TV one which has a few extra layers and fits perfectly. The only sort of suprise is that the two products comes separately but that's a minor thing if you trust the delivery services Apple picks.
Return Policy
Yeah: You can return an opened item
Nah: No free return. 15-25% restocking fee
For eligible products, you have up to 14 calendar days from the time you receive your item(s) to initiate a return. A 25% restocking fee will be assessed for all opened items (per unit). A 15% restocking fee will be assessed on closed box returns (per unit).