Hello Monday, e-Commerce logistics has been happening last week. This 1-min quick summary will list out the key news over the last 7 days.
1. Logistics Updates
China soon to be the largest market for Uber?
Yes, soon to be. Usage of Uber in China will soon exceed USA by the end of this year. While fighting against its chinese local competitor app Didi which merged with Kuaidi earlier this year, Uber, which Baidu invested in, uses a domestic approach
Uber China's new moves:
Launched UberPool across 5 cities after 4-month trial
Expand presence from 21 cities to 100 cities (vs Didi 199 cities)
Uber IPO Updates
Another news from Mashable is that Uber is building an army for IPO by hiring investment bankers from Goldman Sachs. Regarding when Uber is going to IPO, CEO Travis Kalanick said:
"We're maturing as a company, but we're still like eighth graders," said Kalanick. "We're in junior high. And someone's telling us we need to go to the prom, but it's a little early. Give us a few years."
Uber in India = Ola. Preparing IPO?
Uber like startups are now everywhere. In india, there is one serious competitor called Ola which closed ~$500M Series F round, and hired an ex-Infosys as CFO. TechCrunch wrote a piece questioning if hiring a new CFO is to preare its IPO.
MOREEEEEEE On-demand delivery statups
Barcelona on-demand delivery start-up Glovo picks up €2m in funding
Deliveroo raises US$100m and expands into Asia Pacific and Middle East
2. eCommerce Updates
Amazon Prime launches in Tokyo
Post & Parcel wrote that Amazon Prime now comes to Tokyo, Amazon Prime Now is available in 23 cities worldwide. In Tokyo, the cost for the one-hour service is ¥890 and the Prime annual membership fee is ¥3,900, according to a report in the Wall Street Journal. As previously reported, Rakuten – Amazon's principal e-commerce rival in Japan – launched its own fast delivery service in central Tokyo in August.
Online retailers partner with on-demand delivery services
Domino's Pizza India announces technology partnership with Zippr
[Apple + Postmates] partners to offer 4-hour same-day delivery in usa. (https://medium.com/@samdebrule/the-new-deal-apple-postmates-aac8391f6f28#.o7xmk39tq)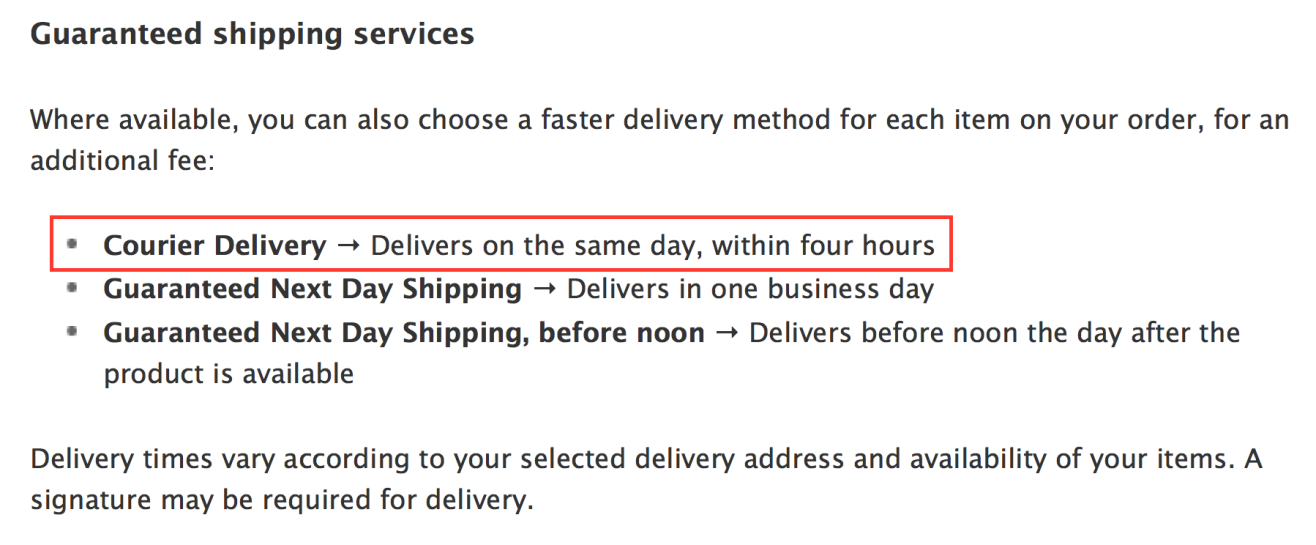 Image credit: 9to5Mac
Alibaba in talks to buy SCMP, a HK media company. WHY?
CBC said buying SCMP can tap Chinese consumers' growing demand for online content. In October it bought the remaining shares in video streaming site Youku Tudou it didn't already own for $3.6 billion US.
Noted that Amazon owner Jeff Bezos purchased the Washington Post. Well another media International Business Times said
SCMP, the South China Morning Post has long been known to report on stories and scandals that would be forbidden in mainland China. But an Alibaba acquisition could change that dynamic