"Time is money."
And those who value it always look for ways to do things as quickly as possible. If you deal in the ecommerce space, you probably can weigh the importance of making the shipping process not only error-free but speedier as well.
At Postmen, we strive to make your shipping processes go from smooth to smoother and from smoother to smoothest. And in an attempt to achieve that, we have added yet another feature that would make you breathe easy when it comes to shipping.
Introducing → Automation Rules
The shipping process consumes a significant amount of time and effort in verifying multiple minor details to reduce the order returns and enhance the customers' post-purchase experience. Now with Postmen, you can let the automation rules take all the load for you.
These automation rules can speed up the shipping process and reduce those nerve-racking manual errors.
You are allowed to set up a maximum of 10 rules. In addition to that, Postmen enables you to add a rule, edit a rule, sort all your rules, delete a rule and activate or deactivate a rule.
Believe us; this feature is going to relieve you from hundreds of mundane, repetitive tasks that you may face on a daily basis. You can use your saved time to get ahead of the game instead of constantly playing catch up.
Now, let's take a peek into the steps for setting up Postmen automation rules.
How to Set up Postmen Automation Rules?
Follow the steps below to set your automation rules on postmen -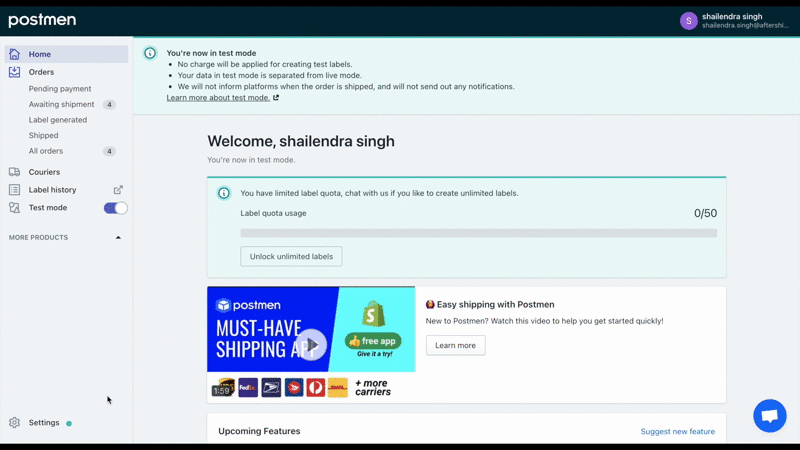 Open the "Settings" from your Postmen dashboard
Click on "Automation rules" followed by the "Add rule" button
Now set your rules and your desired preferences and save them. [You can choose whether you want to apply these actions to every order being imported or only to those which meet certain criteria].
The advanced automation rules can help you streamline operations by auto-filling order fields to create conditional workflows.
1) When you are applying actions to every order that is imported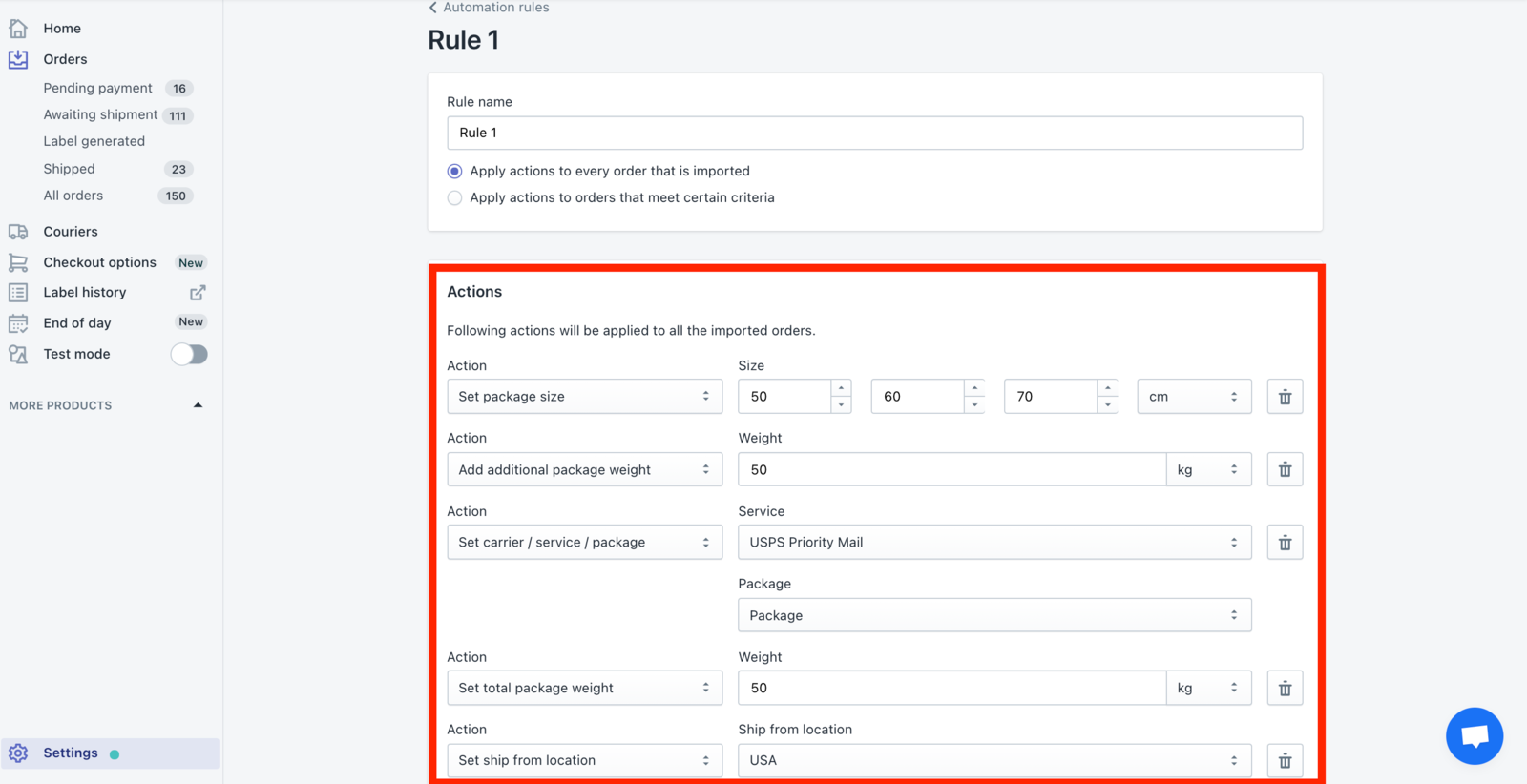 While selecting multiple action options, the automation rule will work when all of them are met.
2) When you are applying actions to orders that meet certain criteria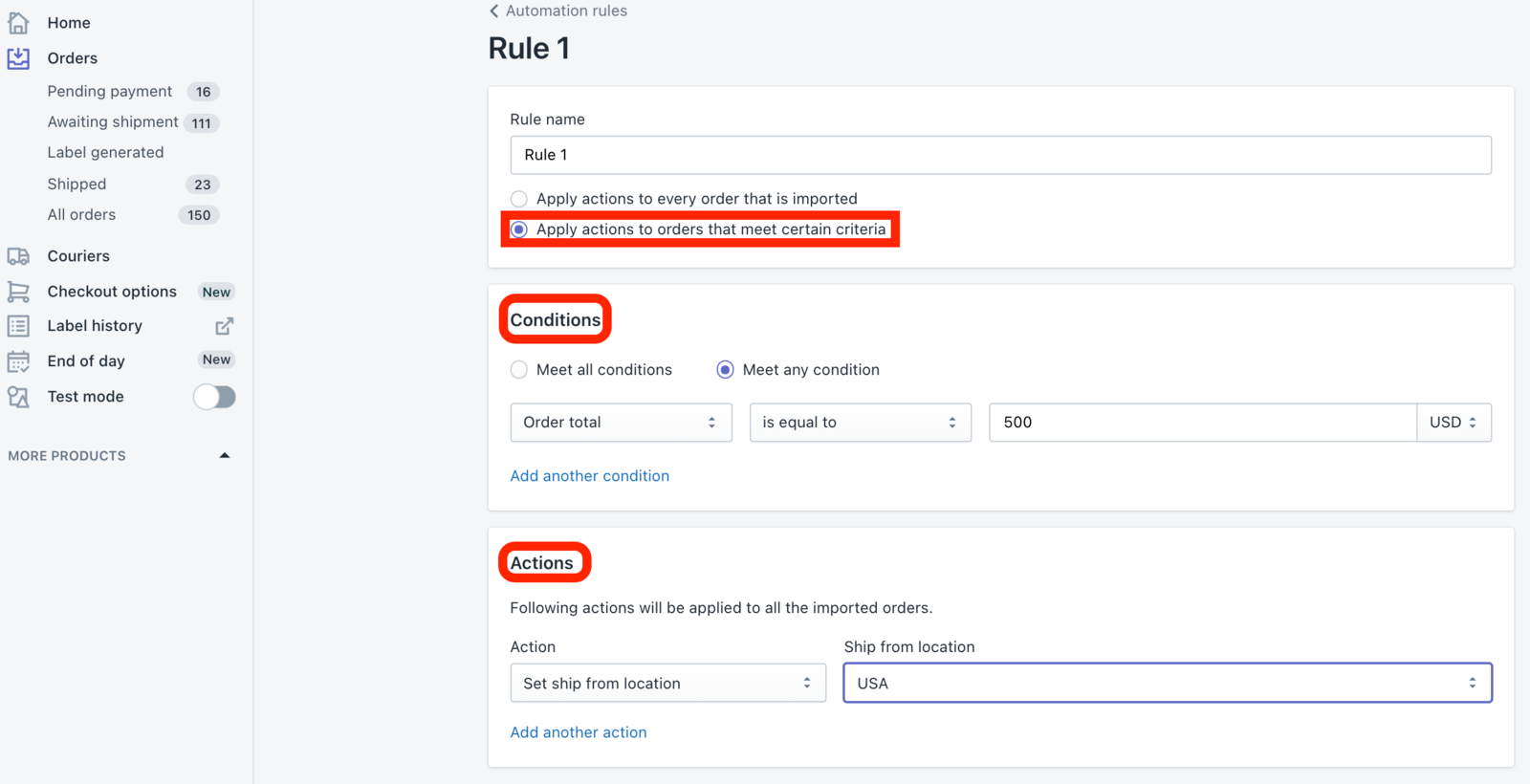 In this scenario, the automation rules will be executed when the orders matching the set criteria are imported.
Your automation rule could be triggered based on different conditions including -
Order total
Postal code
Recipient city
Requested service type
Recipient country
Store
Shipping paid
Total items quantity
Total weight
In addition to that, in order to ensure that your automation rules delivers the desired results, you can set your preferred actions from the lot, which include -
Add additional package weight
Set carrier /service / package
Set package size
Set total package weight
Set ship from location
For more details on how to set up the automation rules and conditions properly, feel free to refer to the help article.
Automation Rules Prioritization
All the rules set by you will be prioritized on the basis of their rankings. In simple words, if two or more rules contradict each other, the rule which is positioned at the top of your list will be applicable. You can easily change the priority by rearranging the order of your automation rules. So, make sure you have arranged your automation rules carefully, and the set conditions are totally different from one another.
So it's time to streamline your shipping process further and save your precious time by running on automation.